Welcome!
Blue Jungle Marketing pecializes in promotional products, printing, signage and graphic design. The Blue Jungle Marketing team is experienced in the marketing and advertising for mid-size and large clients. Our mission is to assist our clients with effectively conveying their message to their audience. Creativity coupled with quality and timely production, our services help customers make an effective and lasting impression with their customers. Simply stated; "we are committed to making our customers look great!"
Featured Item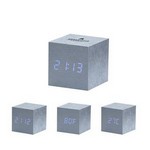 MoMA Alume Cube Clock
Designed by Natalie Sun, the Alume Cube Clock has a textured surface. Snap your fingers or tap the cube and the green LED display reveals the time, date and temperature and after a few seconds the dis...

Signature Showrooms